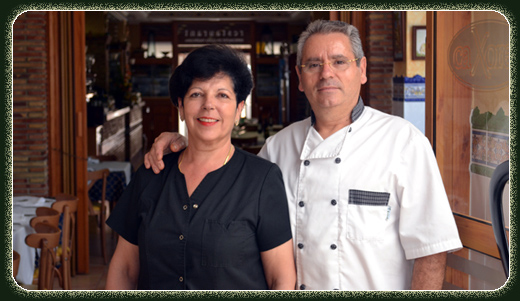 Melchor and Concha, together with their son Mel, decided to embark on a new stage in their lives, setting up a restaurant.
"Restaurant Ca Xoret" was born in the Roca neighbourhood, Meliana in 2004. A restaurant where you can taste a traditional Valencian cuisine, recovering the most typical recipes of l'horta nord. We have a wine cellar where you can enjoy a good wine, advised by our sommelier Mel. We offer our customers a personal and close treatment, creating a good family atmosphere.
The restaurant is located in a privileged place; the heart of l'horta nord.
The interior of the restaurant is decorated in typical Valencian style. In summer you can enjoy an evening outdoors on our indoor terrace.
The origin of "CA XORET" comes from the name of the owner Melchor.
Specifically "Xoret" is a diminutive of Xoro which is the name of Melchor in Valencian.